Advanced Amazon Repricing - Quick, Easy & Advanced Optimisation
Repricing - the essential option to turn your 'Amazon' business into a real business… and keep it there. Seller Republic is serving multinational corporations and small businesses alike. Enterprise account packages also available, including account management. 15 day free trial. No credit card required. 3 minute set-up.
All our plans have a free 15-day trial. No credit card required.
Professional
Up to 5,000 Active Listings
5,000 Active Listings
Multiple Regional Marketplaces
Continuous Repricing
Win Buy Box Strategy
Custom Strategies
Email and Live Chat Support
Start Free Trial
Elite
Up to 25,000 Active Listings
25,000 Active Listings
Multiple Regional Marketplaces
Continuous Repricing
Win Buy Box Strategy
Custom Strategies
Email and Live Chat Support
Start Free Trial
Enterprise
Up to 50,000 Active Listings
50,000 Active Listings
Multiple Regional Marketplaces
Continuous Repricing
Win Buy Box Strategy
Custom Strategies
Email and Live Chat Support
Start Free Trial

Everything you need from a Repricer
All International Marketplaces Included
Perfect for Amazon Global Sellers, add multiple seller accounts per subscription, all for the same price, including UK, USA, Canada, Germany, Spain, France, Italy, India and Japan.
In Built Win Buy Box Rule
Inbuilt Win Buy Box rule aggressively seeks and automatically captures you the buy Box, winning you the all important top spot where 80% of Amazon sales are generated.
True 3-Minute Set Up
Reprice an entire Amazon account in minutes, however many listings you have! Bulk Apply Strategies. Set Min and Max Prices individually, in bulk by percentage of cost or current landed price, or by CSV Upload.
Continuous Repricing
Push the Amazon API to the limits and utilize the safe maximum capacity of the Amazon set up. Continuous Repricing offers the optimum level of security and reliability, whilst pushing to the absolute heights of safe performance. *Included with all plans as standard.
Ultra Secure Technology + Ultimate Reliability
Be safe from potential listing errors with our ultra secure technology which is monitored around the clock. In built safety measure ensure it is impossible to reprice outside your preset min and max prices.
Intelligent & Advanced Repricing Rules
Our users gain an average 40% increase in sales and 30% in profits because we not only reprice down, we also match and increase prices too against FBA and non FBA sellers! We have an in built Win Buy Box Strategy and you can add a never ending amount of unique strategies/rules too.
Fully Responsive & Mobile-Friendly
You can access Seller Republic from multiple locations simultaneously. Seller Republic is fully responsive for whatever device you are using. All subscription levels are fully compliant on PC, Laptop, Tablet and Smartphone.
Fast, Advanced & Instant Predictive Search
We download all your listings into our system so when you search they are viewable instantly! Predictive search means we show listings intelligently to what you type!
Chat & Email Support
Although Seller Republic Amazon Repricing has been designed to be as easy to use and intuitive as possible friendly email and in app Chat Support are available just in case you need us.
Safe Mode
You can assign pricing strategies to your listings and get them ready without actually sending the updated prices to Amazon. Turn Repricing on and off by marketplace in a second and flick of a switch.
Pricing History
Narrow down on your re-pricing history on a per product basis, enabling you to keep a strong eye on your most profitable lines and how competitive repricing is upon them.
Advanced Filtering
Filter listings by regional marketplace and the full range of attributes including FBA, Buy Box and Strategy Assigned for easy management.
FBA (Fulfilled by Amazon) & FBM (Fulfilled by Merchant)
Fully reprice not only just Fulfilled by Merchant (FBM) listings but Fulfilled by Amazon listings too. Dynamically compete with strategies that act differently depending on whether you are competing with FBA (Fulfilled by Amazon) or FBM (Fulfilled by Merchant) sellers.
Reprice 24/7
Reprice on autopilot, once set up simply leave the hard work to us as we reprice for you 100% accurately without the need for any of your attention. We monitor Amazon automatically via our cloud based system through automation around the clock to ensure nothing is missed.
Dashboard Analytics
Analyze the Competition & Stats on your dashboard instantly by graph and numbers. Break down your stats by Buy Box percentage as well as showing the number of changes we make day on day. You can even delve deeper and check which products are actually being repriced that day!
Condition Repricing
Condition Repricing – Choose to Reprice against used, new, reconditioned and refurbished seller listings etc. Included Free of Charge and on all accounts! Found in the advanced options of the 'Add Strategy' page.
Hourly New Product Imports
For our more active customers we offer new product checking/imports every hour. Hourly product checking is perfect for the busier store where products regularly go in and out of stock. (not to be confused with repricing speed that runs every few seconds 24/7).
CSV Upload
Update your product settings quickly and easily with our CSV upload, that can handle full accounts of up to 50000 products. Set min and max prices, as well as strategies and the finer details for expert pricing optimization.
Up to 50000 Listings on Standard Plans
Dedicated Account management and enterprise plans available. Supporting Amazon accounts of up to 50000 listings on standards plans. Larger customers please contact support.
Video Support & Tutorials
Get set up in minutes with our easy to follow, explainer videos that show you step-by-step how to get a professional Amazon account up and running. Text based Tutorials also available.
Inactive & Backordered Support
Seller Republic now supports backordered products, thus allowing quicker reconciliation of newly added products. Additional options are also included to quickly identify problem products, such as Amazon restrictions and errors.
PDF & Excel Reporting
Amazon Repricing made easy for the corporate client with our one-click downloadable reports available in both PDF and Excel. Filter products down to an individual level and set reporting time as either daily, weekly or monthly.
Exclude Competitors & Amazon
Advanced functionality for those tricky listings that require more in-depth strategies. Exclude Amazon in one click or remove specific or multiple competitors.
Support for Prime & FBA
Target Amazon and both FBA and Prime sellers differently and individually. Ensure that Prime users fulfilling by FBM are strategically targeted with the correct strategy for maximum sales and profit potential.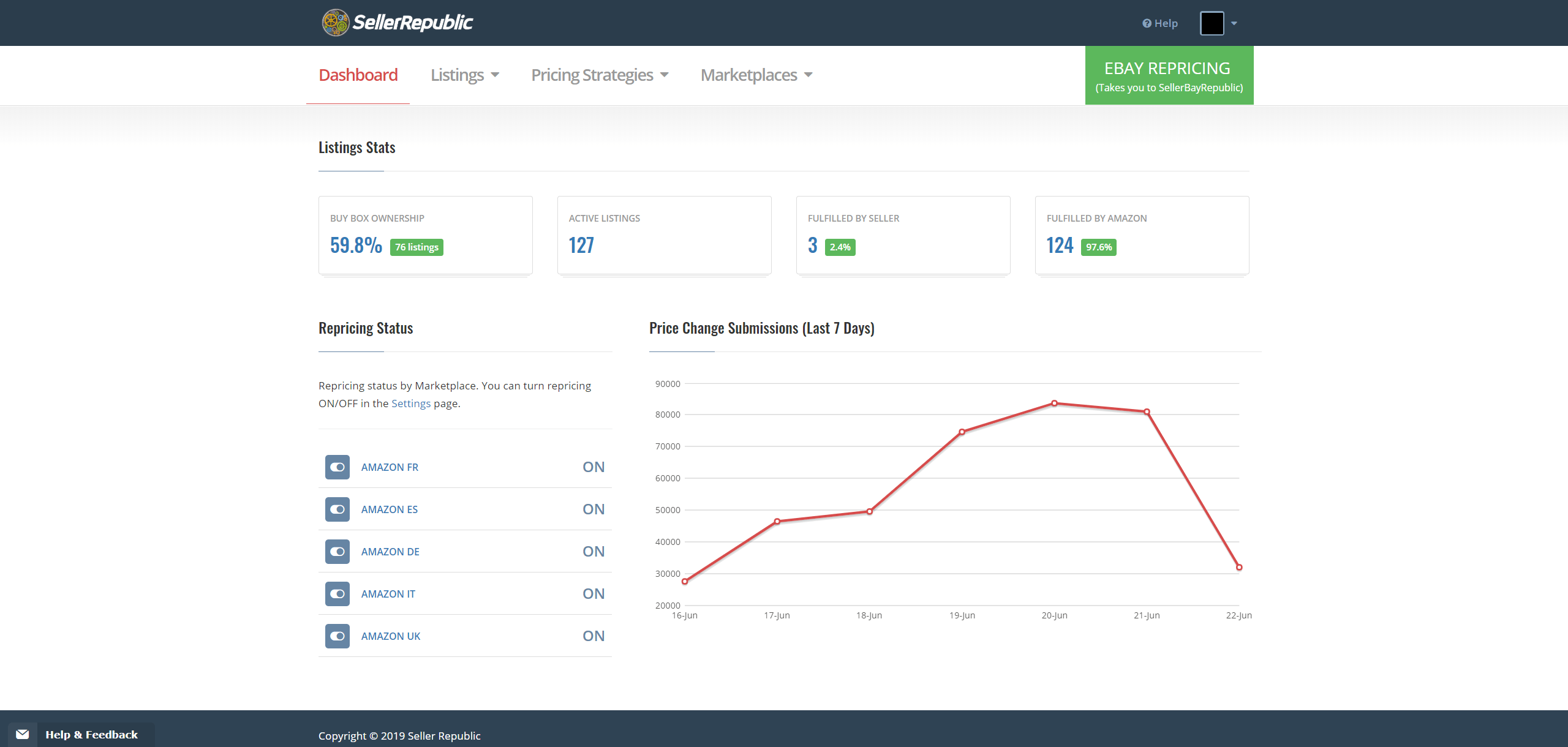 'Speed' - Continuous/Instant Repricing As Standard
Continuous/Instant Repricing. The fastest method possible.
Lightning fast in-app performance and intelligent predictive search.
A carefully thought-out infrastructure that balances ultimate reliability with the speed and performance necessary to ensure you consistently reprice in time and ensure you maintain maximum profits even when competing against rival repricing solutions.
Fast, Safe, Reliable and Secure. Fast, yet solid and reliable performance. *Please note continuous repricing, also known as instant repricing, works on a theoretical basis of Amazon providing price updates every 2 seconds and collecting price changes every 2 minutes, thus the maximum speed currently available. Additional time constraints are Amazon server update times that can vary, similarly as updates performed within Seller Central.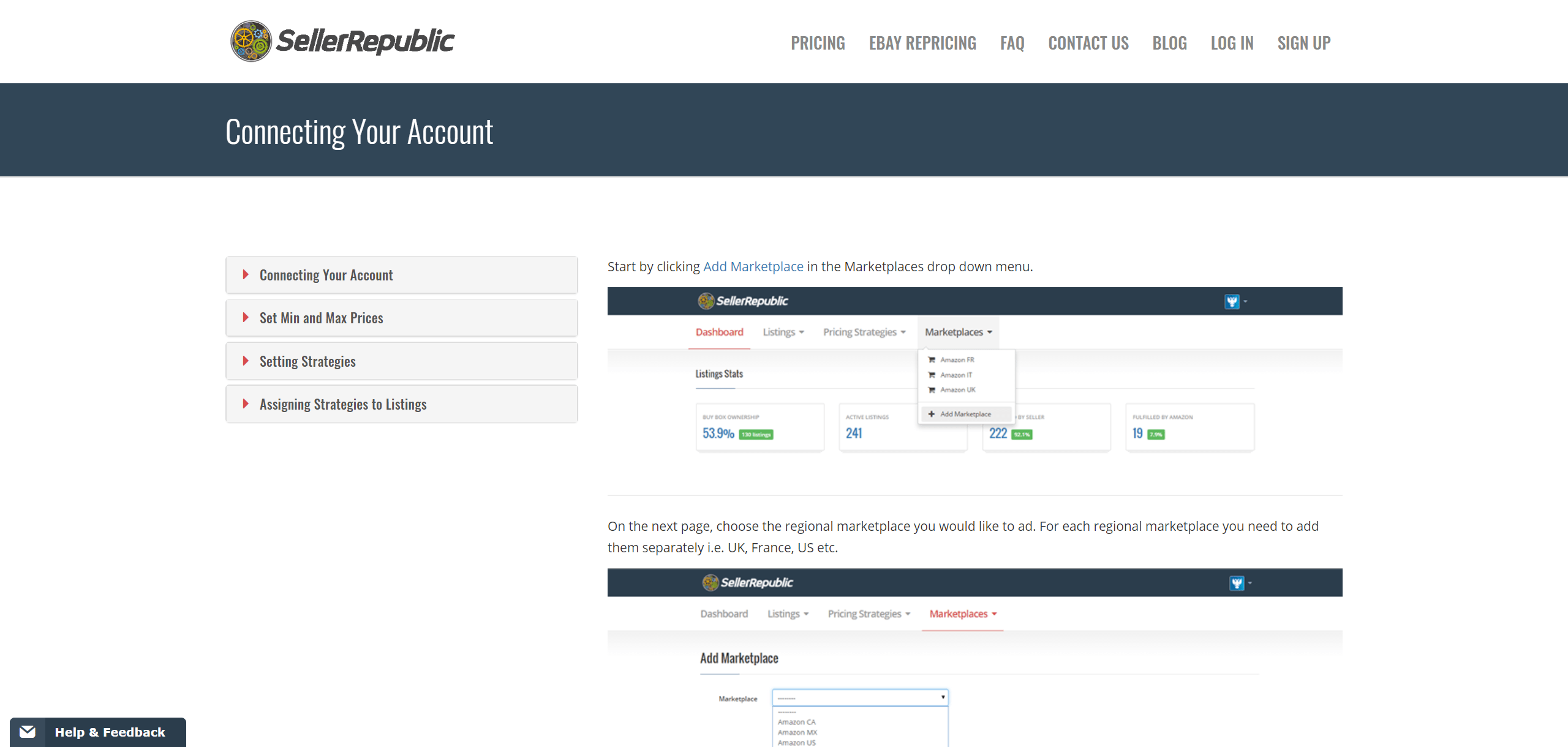 Incredibly Easy To Use - 3 Minute Set Up Time! 24/7 Support In Case You Need Us.
3-minute, 4-step, complete set up process.
24 hours a day, 7 days a week, 365 days a year support.
Assign strategies to individual, multiple or entire inventory in a click. Bulk or individually set Min/Max Prices in app or via CSV. Intuitive instant listing search capabilities.
Over 3 years of continuous use, an unprecedented 3 minute set up time and minimal to no maintenance. *3 minute set up time is using our presets (excludes Amazon connection/update time). Used by global Retail brands and Sellers with in excess of 1000000 products per account. *We aim to reply to most messages within 12 hours and resolve 90% of queries in 1 message. Telephone Support/Account Management for all Accounts Over 5000 Products.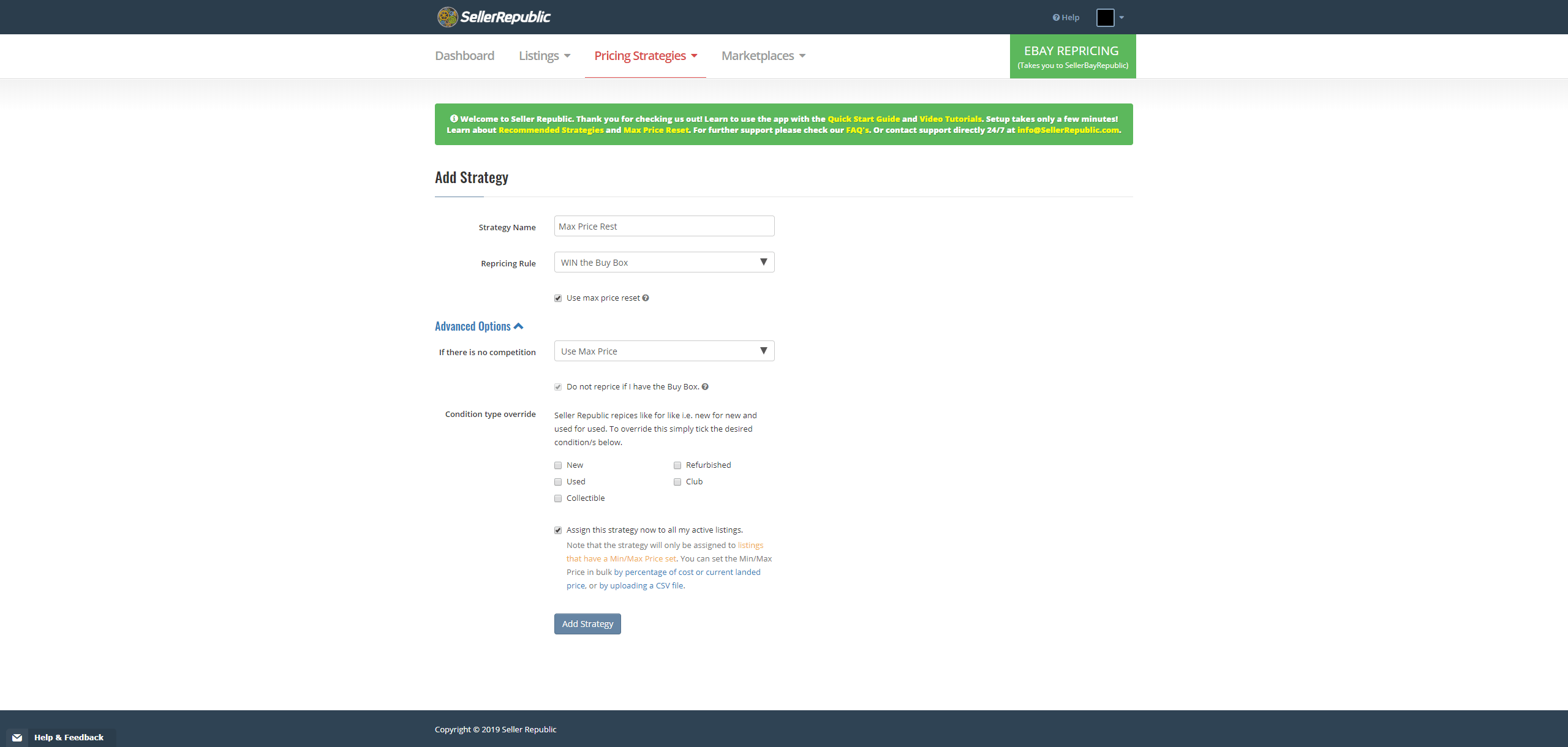 Intelligent Amazon Repricing/Max Price Reset – Reprice Up!
Max Price Reset - Reprice up, down and match intelligently to ensure maximum profits not just sales. Reprice up to your max price once per day to get pricing started again when competing against a competing Repricer.
In-built 'Win Buy Box' strategy. Compete with Buy Box Owners or Lowest Price & Set Rules for when to not reprice.
Reprice up, down and match as standard. You can even set your Prices to rise once the competition goes out of stock, thus maximizing profits. Set an unlimited amount of your own strategies. Make advanced additional pricing rules.
Seller Republic understands that repricing is about maximizing profit not just maximizing sale numbers. Intelligently reprice up and down dependent on your competitors actions. A built-in win buy box strategy as standard and the possibility to set an infinite number of new strategies depending on your goals. Seller Republic is constantly tested against competing repricers where it wins at gaining the buy box and/or succeeds in increasing the selling price.
Fulfills both business and personal requirements, with one click clear reporting. For use by both commercial clients and small Amazon Sellers alike. Easy reporting allows business owners to quickly and easily identify highly active products and make quick decisions. For larger businesses reporting allows the ability to create high quality presentation material in one click.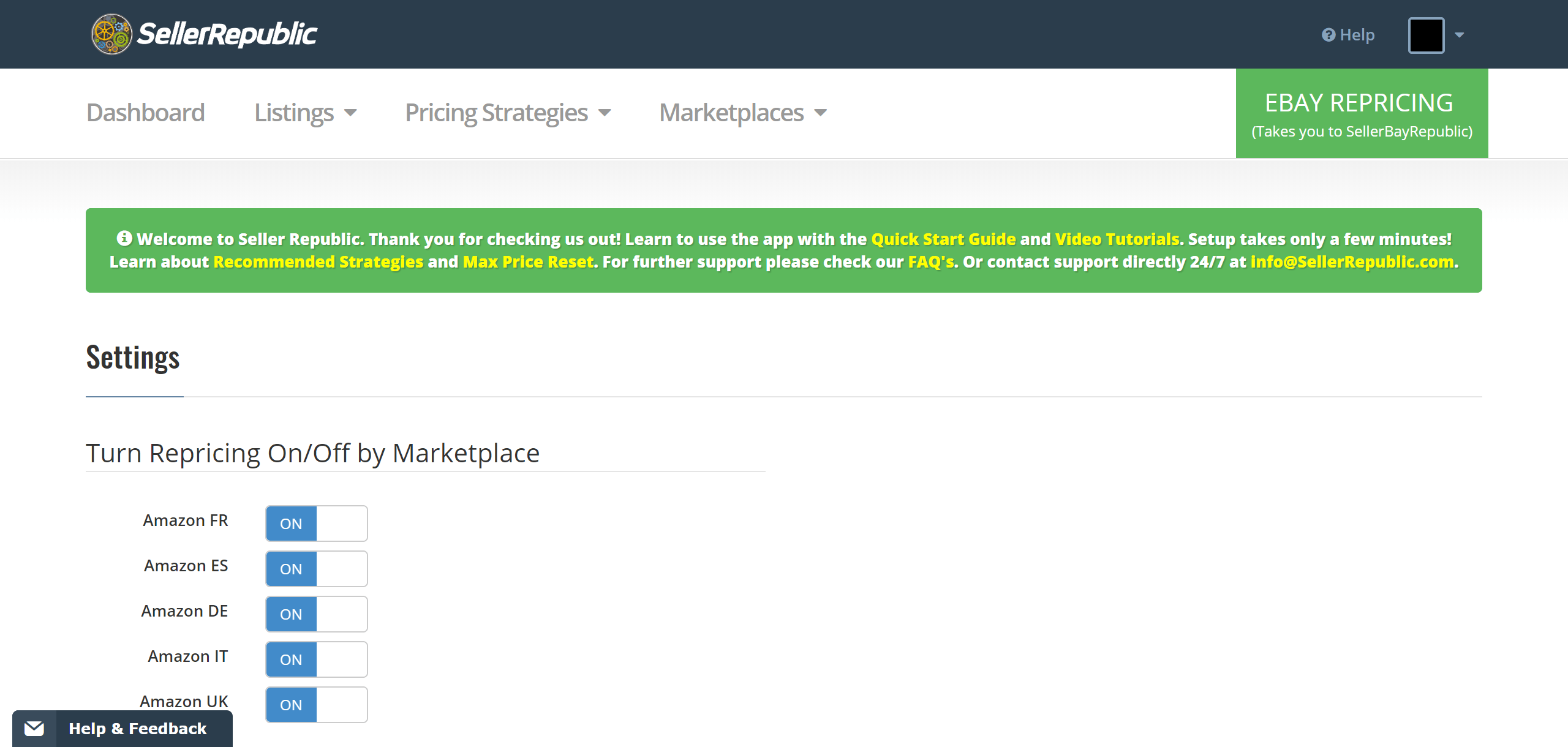 Security - Protecting Valuable Data
Protect your min and max price data from the Amazon AI and data centers. Dramatically reduce the chances of Amazon becoming a dominant competitor on your product listings.
Our technology ensures you never reprice below or above your minimum and maximum prices and your data remains completely private.
Built with high level security & globally established and trusted programming techniques.
Seller Republic is regularly updated to stay on top. Regular updates can be seen on our blog. Updates are performed firstly on a staging environment where they are rigorously tested with multiple test accounts. QA (Quality Assurance) monitors all system 24 hours a day in-depth throughout this process and continues checking for a further 30 days after launch. *Typical updates are product enhancements and Amazon compatibility intergrations.

Capable of 24000000 possible price updates per day, per account. The best repricing software, to compete against the hardest competitors. Save time, use advanced repricing strategies and be amazed at the rate that your sales grow.
Tried n' Tested Testimonials
A well thought out solution that gets the job done fast. After previously using Repricers which consistently fall short, it is refreshing to use Seller Republic and find a service that not only works setting it up was a quick too. Once set up it has simply ran on autopilot with a few quick glances to the dashboard.
We found the most value we got from Seller Republic is when listings price up, something which is often overlooked when repricing manually. An increase on certain lines from a 10% profit margin to over 70% whilst still maintaining the same sales volumes has added greatly to our business.

Try our 15-Day Free Trial!
Zero set up fees, long-term contracts or commitments. No credit card required. Cancel anytime. Try Seller Republic for free.
Short of time to sign up now? Subscribe to our email list below to keep updated with the latest news or contact us to schedule a demo at a later date.